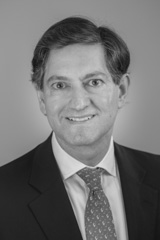 Mr. Arora joined Terrapin Partners, LLC in 2007 to focus on the firm's principal investment activities. Mr. Arora served as the CEO of Terrapin 3 Acquisition Corporation from 2014 to 2016, a Special Purpose Acquisition Corporation, which merged into Yatra Online Inc. in December 2016. Yatra Online is one of the largest online travel agencies in India. Mr. Arora is on the board of directors of Yatra Online (NASDAQ: YTRA).
Prior to joining Terrapin, Mr. Arora was a managing director at Deutsche Bank AG in Hong Kong, where he managed the firm's equity-linked convertible debt origination team for Asia-Pacific. Prior to this, Mr. Arora held a variety of positions in leveraged finance, derivatives, and equity capital markets at Bankers Trust and Deutsche Bank. During his 16-year banking career, Mr. Arora has raised more than $5 billion of debt, equity and other securities for companies in the US and in Asia.
Mr. Arora received an MBA in finance from the University of Chicago and a BSc in economics from The London School of Economics. Mr. Arora is married and has two children.
Contact: